What brought me to the world of theatre, movement and dance?
The power of storytelling. Dance, Theatre, Drama, Comedy, Poetry, all have the power to communicate beyond languages and culture differences.
Art has the power to transform society, and bring positive change within our communities. It has the power to heal, to build peace, to question, and to bring people and people together.
When working with dance within my productions, the movement qualities are mainly, but not exclusively grounded in Krumping, Afrobeats, Dancehall and Hiphop.
---
---
My calling is to create artistic earthquakes through theatre, movement and dance.
I intend my artistic expressions and artistic programs to raise awareness, about society and about our undeniable power, and our responsibilities as citizens of the world.
All my performances and productions encourage both performers and audiences to embrace our powerful roles as citizens of the world.
Shows brings audiences on a rollercoaster of suspense and reflections, going from laughter to tears. Challenging conversations are put centre stage with the potential to create positive social change through the arts.
---
---
---
Reviews – what the press says:
"Cindy Claes shifts boundaries in dance theatre. (…) Here before our eyes was one woman, doing something truly new and unexpected – a marriage between Dancehall theatre and Hip Hop Dance theatre. There was a light bulb moment. A refreshing witnessing of the new. (…) It was revitalizing. Cindy Claes is revitalizing." – Gender in Dance by Isaac Ouro – (Review Resolutions, The Place, 2017)
"You have to applaud director and choreographer Cindy Claes for being so daring in her approach to theatre. (…) Claes' experimentation defines her as an 'artist' rather than just a choreographer" – ToomuchFlavour Online Magazine
"Cindy Claes shifts boundaries in Dance Theatre.", Isaac Ouro-Gnaro
"The highlight of the evening is Claes' own piece, Is My Whining Winding You Up?… Takeover brought a welcome ray of sunshine to the Baylis studio, left the audience with a smile on its face and a spring in its step, and offered a glimpse of the style's dance theatre potential. Dutty." – Lise Smith, Dance Tabs
"I was very impressed by her silky movement language, using hip hop, krumping and dancehall as the choreographic building blocks in Things aren't always black or white. (…) It was powerful stuff, strongly performed by a charismatic dance artist, and full of impressive dramatic changes." – Londondance by Graham Watts – (Review Resolutions, The Place, 2017)
"A masterclass in contemporary dance, Voices in the Alleyway shows the struggles of a young pair of basketball-lovers, as they attempt to free themselves from the shackles of oppressive upbringings." – The London Word
"Breakin' Convention, Sadler's Wells, review: A platform for big personalities and amazing moves" – read more – The Independent
---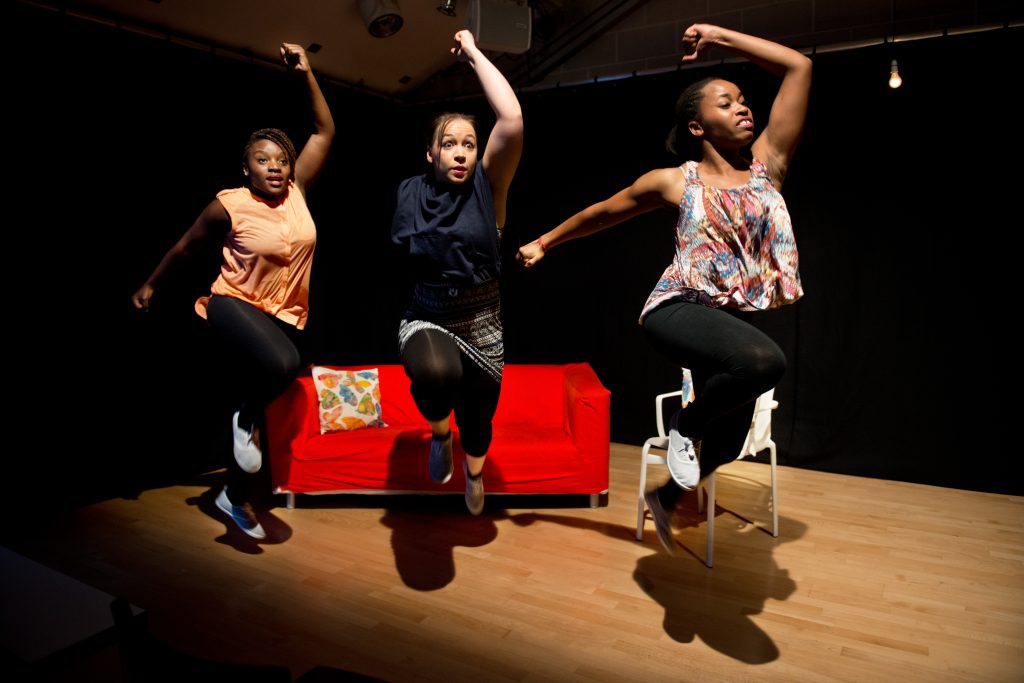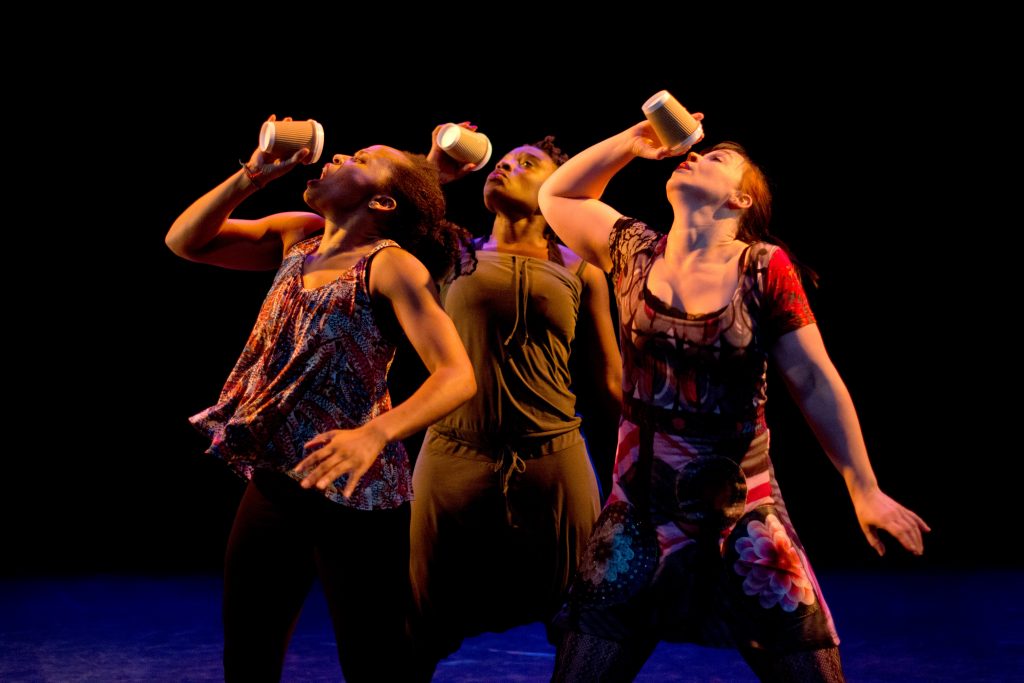 My journey
Born and raised in Belgium, I moved to London in 2005. My artistic journey kept expanding during numerous adventures as a dance backpacker. I have been performing, teaching and I have done artistic research in Africa, USA, Caribbean, South America, the Arctic and all over Europe, collecting invaluable experiences along the way. In 2018 I moved to Paris, in 2019 I lived in Barcelona, 2021 in Madrid, and I currently have a base in Belgium.
In regards to dance, I did extensive research on Dancehall culture, Krumping and Hip hop Theatre.
I was a recipient of the UK Lisa Ullmann Travelling Scholarschip Fund (2008) and the Bonnie Bird New UK Chreography Fund (2010). My full-length production, Puzzle B, won the prize Roger Van De Voorde in Brussels in 2014. I was awarded a Trailblazer Fellowship by ADAD (now known as DAD – One Dance UK) in 2013-2014.
My choreographic work has been supported by Arts Council England (Artist International Development Fund, Grant for the Arts) and Erasmus+ (a European Fund). My work has been showcased internationally (Jamaica, San Francisco, Hollywood, Los Angeles, Belgium, Venezuela, UK, etc).
I hit London in 2011 with a moving full length production "Voices in the Alleyway" (dance, drama and basketball), accompanied by Gbemisola Ikumelo (BAFTA award winner) as our dramaturge.
I started training as a Hip-Hop dancer in Belgium in the mid 90's. From the age of 17, I started dance backpacking to gather uncommon dance experiences. Hungry for more challenges, I moved to London (UK) in 2005. I trained in Krumping in Los Angeles (Long Beach/Demolition Crew) with the generous support of the Lisa Ullman Travelling Scholarship Fund. Wanting to experience Dancehall first hand, I went to Jamaica on several occasions to deepen my research.
I also studied Afro-Caribbean dance forms (Kumina, Revival and Dinki Mini) at Edna Manley College in Kingston / Jamaica during their summer intensive. Having a sweet spot for Afrobeats and Salsa, my training as a dancer also included Contact Improvisation, Contemporary dance and Aerial skills (Bungee).
Choreographic credits include: The Fiddler, Custody, Voices in the Alleyway, Upswing Aerial, Faith Drama Productions, Puzzle B, The Den, School Fi Wifey, etc.
In the field of theatre, my training started in Belgium, as a member of "La compagnie" under the direction of Nana François. My journey then lead me to work and train with several teachers in London, and did an in-depth improv comedy cours at The Pit in NYC / USA. I collaborated for over 10 years with Gbemisola Ikumelo (BAFTA Award winner). In 2015 I was selected, after a very competitive worldwide auditioning process, to be a part of the professional development course organised by by DV8 / Lloyd Newson. My physical theatre practice also grew immensely under the mentorship of Benji Reid, a pioneer within the UK Hiphop Theatre sector. In 2018 I studied at the International School of Theatre of Jacques Lecoq in Paris, followed by Estudis Berty Tovias Escuela Internacional de Teatro in Barcelona. The Jerzy Grotowski and Thomas Richard company based in Italy opened my eyes to a new way of exploring work coming from the heart. The mentors and teachers who helped me translate my theatre skills for the screen include Studio Di Pace, Victoria Di Pace and Manuel Puro.
---
Reviews: what the audiences say:
"It was awesome!!!!!!!! Really enjoyed it.. I cried with laughter." – Ann
"You were all truly amazing!! Enjoyed the show so much Cindy!!! Made me laugh a lot!! It was a true success" – Yaeli
I've said it before and i'll say it again – you inspire me in so many ways!! Your energy, soul, and humility. truly a trailblazer." – Lulu
"The whole cast mashed up Sadlers tonight someone pinch me please did i just see a play about dancehall in Sadlers wells times are changing ,big up yourselves great jokes great dance great history lessons and above all great positive messages amazing stuff my head is buzzing……" – Graham
"Very moving. the clever use of comedy drew us in, and we were suddenly hit with thought-provoking images and ideas." – Lulu
"Danced all the way into work this morning, still thinking about the moves last night!" – Lorna
"I'm absolutely in awe of the work you're doing and wanting to say thank you for demonstrating dancehall in such an artistically beautiful manner." – Laura
"EPIC!!!!!" – Seldon
"Amazing show, fantastic artistry, theatre, laughter and profound messages at Cindy Claes' DANCEHALL TAKEOVER, plus you got my mum up and dancing." – Hannah
"Amazing display of energy and talent!" – Phil
"Amazing educational thought provoking hilarious absolutely loved your show." – Janine
"You don't watch Cindy perform, you experience her." – Maya
"Wow… hats off to Cindy Claes for an amazing production tonight!! A show dedicated to the history and development of Dancehall featuring Shady Squad from Kingston Jamaica.. True art. Totally beautiful, hilarious, awe inspiring…so many things! Congrats and thank you to all those involved!" – Tania
---
---